Galil publishes a free, quarterly newsletter full of the latest news and helpful information about new products and applications, as well as in-depth technical articles on motion control. Register now to receive your free copy via e-mail. For your pleasure and great information about Galil, feel free to browse through past issues of ServoTrends described below.
Figure 1: Artist's Rendering of the Thirty Meter Telescope
Galil has a decades long history of collaboration with projects on the cutting edge of science. Astronomy, Physics, Biology, and Geology are some of the many fields of scientific research that call on the need for deterministic motion control and data collection. The ease of use and support offered by Galil makes it a natural fit for the rapid prototyping and automation that is characteristic of large scale scientific research.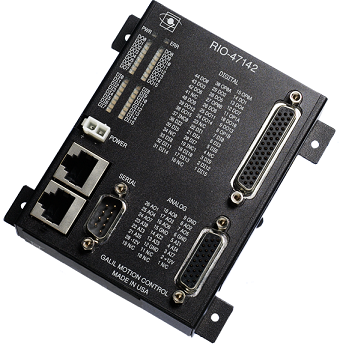 On the market for five years, Galil's RIO Pocket PLC provides a cost-effective, compact and intelligent solution for programmable I/O control. Standard features of the RIO-47xxx series include 32 digital and 16 analog I/O, program memory with multitasking, PID process control loops, timers, counters, web interface, email alerts, datalogging, Ethernet and RS232 ports.
ServoTrends May 2020
New AMP-435x7 all in one multi-axis drive
New gcaps Remote Connect
New GDK Software Tool - MotorSizer
Closed Loop Stepper PartNumberGenerator option
Galil 2-day Live Training Coming in September 2020
ServoTrends June 2019
What's New in GDK
New GDK Step by Step Video now available
Application Note: Using Notch Filters to Mitigate Resonance
EDD EtherCAT Slave adds TwinCAT Support
Welcome New PNW Distributor-Dymaxis
Galil 2-day Live Training Coming in June and October 2019
ServoTrends January 2019
New RIO-47162 Pocket PLC Has 64 Digital and 16 Analog I/O, and Two Ethernet Ports
Galil Design Kit Videos Now Available
Customer Story: Thirty Meter Telescope (TMT)
Galil 2-day Live Training Coming in February 2019