Galil publishes a free, quarterly newsletter full of the latest news and helpful information about new products and applications, as well as in-depth technical articles on motion control. Register now to receive your free copy via e-mail. For your pleasure and great information about Galil, feel free to browse through past issues of ServoTrends described below.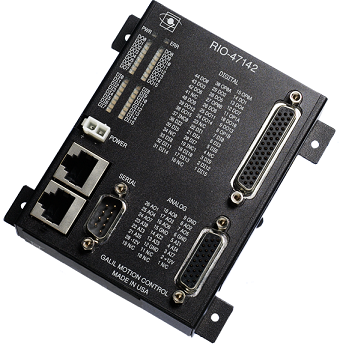 On the market for five years, Galil's RIO Pocket PLC provides a cost-effective, compact and intelligent solution for programmable I/O control. Standard features of the RIO-47xxx series include 32 digital and 16 analog I/O, program memory with multitasking, PID process control loops, timers, counters, web interface, email alerts, datalogging, Ethernet and RS232 ports.
Galil is proud to welcome a new distributor in the Pacific Northwest, Dymaxis Inc. Dymaxis is now the only authorized distributor in OR and WA. Dymaxis' co-founders Tim Loose and Max Sutlin have been working with Galil products for 20+ years and bring a wealth of Galil knowledge as well as territory knowledge.
ServoTrends May 2020
New AMP-435x7 all in one multi-axis drive
New gcaps Remote Connect
New GDK Software Tool - MotorSizer
Closed Loop Stepper PartNumberGenerator option
Galil 2-day Live Training Coming in September 2020
ServoTrends June 2019
What's New in GDK
New GDK Step by Step Video now available
Application Note: Using Notch Filters to Mitigate Resonance
EDD EtherCAT Slave adds TwinCAT Support
Welcome New PNW Distributor-Dymaxis
Galil 2-day Live Training Coming in June and October 2019
ServoTrends January 2019
New RIO-47162 Pocket PLC Has 64 Digital and 16 Analog I/O, and Two Ethernet Ports
Galil Design Kit Videos Now Available
Customer Story: Thirty Meter Telescope (TMT)
Galil 2-day Live Training Coming in February 2019