This article provides a sample project demonstrating one method for writing desired data record values to disk. The data record is a "snapshot" of the controller's state which can be dispatched at a user-defined interval. This utility allows the user to select the information of interest, the desired sample rate, and a CSV formatted file to save the data. With this method, only the host PC's hard drive is the limiting factor for the amount of data that can be stored.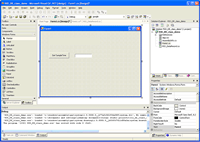 Concepts
Asynchronous data from the controller
Event-driven programming from the GalilTools Communication Library
Details/Special Instructions
VB 2010 Express, Forms App
GalilTools 1.6.0.460
Install GalilTools before using Demo (This installs and registers the Galil COM component)
Controller to be used must support the "DR" data record mode
Minimum sample rate depends on the hardware used. See the DR command in the controller command reference for more information.
Check out the Application Examples on the API Examples page.