Powerful Tool
GalilSuite is a powerful and flexible tool for configuring, analyzing and tuning Galil motion and I/O controllers. GalilSuite revision 1.0 provides an improved user interface, enhanced servo tuning capabilities with multiple tuning methods, real-time scopes, multiple device management, and simplified communications. In addition, an improved GUI with a toolbar presentation and tabs allows easy management of the complete system.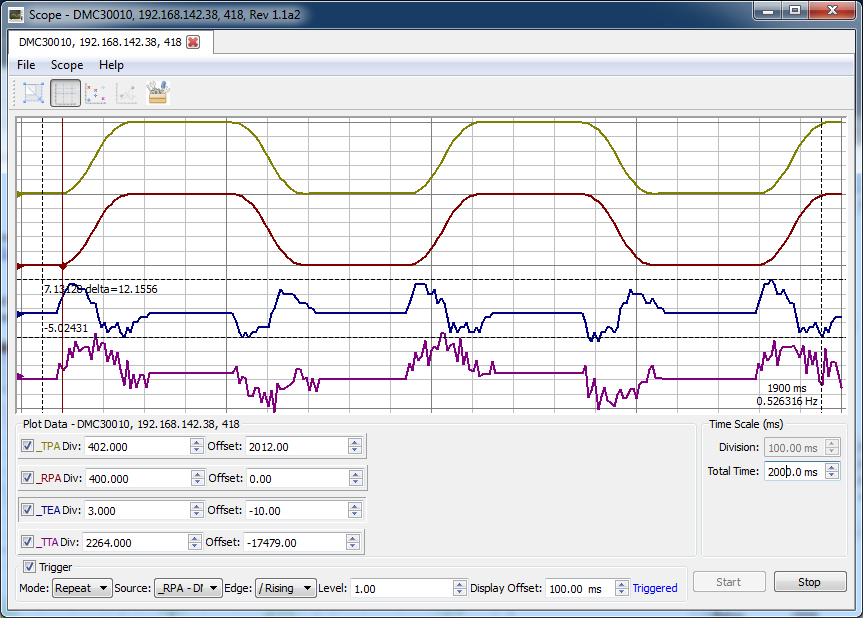 Launcher
Organize multiple connections with ease. GalilSuite Launcher provides the ability to set up and manage connections, settings, window locations and custom user profiles.
Terminal
Send and receive controller commands with greater efficiency. The Terminal tool gives users a convenient way to send Galil's two-letter instructions to and from Galil controllers. The DMC Helper feature provides graphical command syntax help.
Editor
Conveniently write, save and execute application programs. The full-featured Editor tool allows users to cut, paste, copy, insert, find and replace DMC source code. A built-in helper function provides label detection and syntax assistance.
Viewer
View a graphical display of controller and I/O status reports. GalilSuite Viewer displays a snapshot of important data flags and registers. At a glance, the tool provides essential axis data, amp status, Ethernet status, and more.
Scope
Capture and plot controller data, including motor position and velocity. The Scope tool displays a virtually unlimited number of traces. A convenient drag-and-drop feature allows users to select a source from the controller data simply by dragging it into the display area.
Watch
Streamline debugging. The Watch tool displays controller and I/O status in a tabular format. Depending on users' needs, data for different devices can be grouped together on one page or shown separately.
Tuner
Optimize servo system response. Choose from multiple servo tuning methods – including Auto-crossover, Crossover, General, Curve Follower, and Manual. For each method, the Tuner tool captures and displays controller command position, encoder position, position error, and torque in response to the specified test profile.
Configuration
Modify controller and I/O parameters, backup and restore settings, and download firmware. The Configuration tool identifies all devices on the system by model and serial number, firmware version, and internal board IDs. It also provides an easy way to configure parameters.
Ordering Information
GalilSuite Lite is available at no charge and contains all tools except the Scope and Tuner tools. Please purchase a software license to use the complete GalilSuite tool set. GalilSuite is supported on Microsoft Windows 8, 7, and XP SP3, and Linux Red Hat 5.8. Go download GalilSuite today!